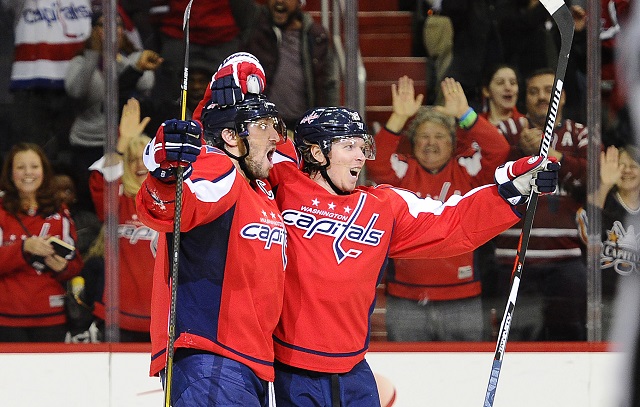 Alex Ovechkin is now the greatest Russian goal-scorer the NHL has ever seen! On a crazy sick goal assisted by Nicklas Backstrom and TJ Oshie, Ovechkin made it to 484 goals to break Sergei Fedorov's previous record of 483. Naturally, Fedorov, who was like a father to Ovechkin in his young playing days, wasn't upset. As a matter of fact, he was happy for his close friend. "It's awesome," Fedorov told NHL.com last week. "Records are made to be broken, so to me he's always been the goal-scorer and when he got close, I'm like, 'Of course it's him.'" When he heard that the record had finally been broken, he had more to say, "I would like to congratulate Alex on this achievement. What he has accomplished thus far in his career has been nothing short of remarkable."
What is very ironic is that Ovechkin had gotten two goals to break 483 before that, but they were waved off on coach's challenges. This time, Ovi broke the record against the Stars, and the last time the Caps beat the Stars was in 2008, when Sergei Fedorov set his record. Amazing, eh?
Also, the assist master named Backstrom is the one who helped both superstars achieve their milestones, to add to the irony.
Lastly, but not least, Ovi's remarkable goal scoring ability was finally proven, when he achieved the Russian record in 471 games less than Fedorov did. Ladies and gentlemen, you are seeing one of the greatest goal scorers the game of hockey had ever seen right in front of your eyes.
I hope you enjoyed reading! Let me know in the comments box what you think. Congratulations to Ovi on this milestone in his career, and thanks! спасибо!