After Alex Ovechkin broke Sergei Fedorov's Russian scoring NHL record, Sergei Gonchar who played on the Washington Capitals, Pittsburgh Penguins and Montreal Canadiens, to name a few teams, was asked about who he thought were the best NHL Russians, and his answers were quite true.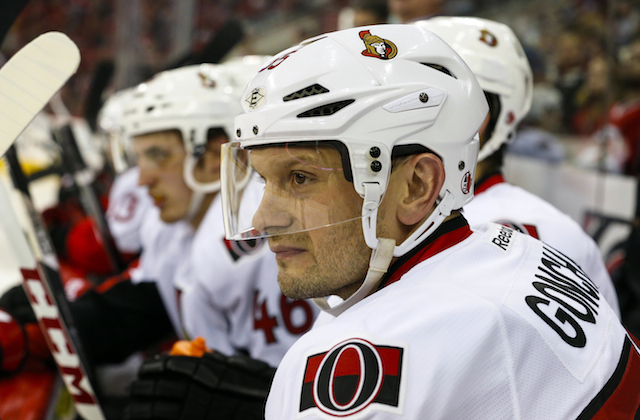 However, Gonchar couldn't put a definite ranking; he just picked a group of players whom he thought were the best Russians in the NHL. "I don't think it's fair to rank them, they're all great players from different times, we haven't seen all these guys play. I don't think it's right to rank them," said Gonchar.
Unfortunately, since in Soviet times they couldn't play in the NHL, there is still many Russians who were greats, but have gone unnoticed because of that, so Gonchar tried to include them too.
Here is his list in no particular order:
Sergei Fedorov: all-time NHL points leader among Russian-born skaters with 1,179 (483 goals, 696 assists) in 1,248 games, inducted into the Hockey Hall of Fame last month
"A great two-way player, in my opinion he was the best skater in the world during his time. He even played defense at times, such a unique player. He had a great combination of defensive and offensive skill." says Gonchar.
Valeri Kharlamov: Inducted in the HHOF in 2005, 1970s superstar
"It's not a secret, he's one of the best to ever play the game. He not only scored goals but he made it look easy, with so much finesse."
Alex Ovechkin: "His style of the game, you never think of a Russian player playing that style. He's probably the only guy in the history of our game in Russia to be so physical as a forward and shoot the puck so much like that. That type of player isn't what we're used to producing in our system. Now maybe we'll have young players come up like because of him. But we've never had a player in our country's history play the game like him. And Alex is still young, he'll make those career numbers even greater."
Vladislav Tretiak: Inducted in the HHOF in 1989, remembered by the Canadians for '72 Summit Series
"I wish he had played a bit longer, he was such a great goalie, I've seen some of his games on tape. He's definitely the best Russian goalie ever, in my opinion."
Slava Fetisov: Inducted into the Hall of Fame in 2001, best Russian defenceman of his time
"He's the guy who changed the game for Russian defensemen. Sort of like what Bobby Orr did for Canada. Slava jumped into the play, he created offense. His legacy aside from his great career is that he changed the position for Russian defensemen."
Sergei Makarov: Part of the K-L-M line from the 1980s, nine-time Soviet League leading scorer, came to NHL at age 31 and played 400-plus games
"I had a chance to see him play live, he's one of the best one-on-one players I've seen, could protect the puck like nobody else. Not a big guy, but the way he did things out there, he's definitely a top-five Russian player ever, for me. Unfortunately he didn't play that many years here, I wish he had played in the NHL in his prime."
Anatoli Firsov: Soviet star in the 1960s and early '70s, considered by some the best Russian forward ever, but exposure to West was limited because of the Iron Curtain
"I heard about him growing up, he was a great player from what I know, unfortunately I never got to see him play."
Boris Mikhailov: Played right wing on the '70s line with Vladimir Petrov and Kharlamov,two-time Olympic and eight-time world champion.
"I saw some of his games, not a flashy player, not a guy that will undress you or make a move that everyone will talk about, but he's the guy scoring all the goals. He stood in front of the net and put in all the rebounds. He was willing to go through all those cross-checks to stand there, a lot of respect for him back home for sure. He was a great leader, too."
Pavel Bure: Inducted in the HHOF in 2012, five 50-goal plus seasons, back-to-back 60-goal campaigns with the Vancouver Canucks in the early '90s.
"Pavel was one of the fastest guys to ever play the game. A lot of highlight goals. I played with him in a few tournaments at the international level. He played so well in Nagano, I remember him scoring five goals against Finland in the Olympic semifinals. Such a natural goal scorer with unbelievable speed and a great shot."
Valeri Vasiliev: longtime captain of the national team in the 1970s, one of the meanest and most physical blueliners of his era
"He was a mean player, one of those guys who always stuck up for his teammates. Very tough guy. I have a lot of respect for that guy. He wasn't scared of anyone."
Evgeni Malkin: "He's still got a lot of years in front of him, but I think we already recognize that in modern hockey he's still one of the guys who can control the game by himself; he can slow down the pace of a game, he can do things in full stride, and believe me there are few guys left who can do it. His ability to protect the puck, to slow down, then accelerate, and take advantage of guys standing still, it's a very special talent."
Igor Larionov: Inducted into the Hall in 2008, centered the famed K-L-M line.
"He's one of the smartest hockey players I've seen, always in the right position, always sees the ice well, read the game so well. It's not a coincidence they called him the Professor. Very few players could play his style. The way he played was something special. He was always thinking one step ahead of everybody."
Alexei Kasatonov: played in four Canada Cups.
"I remember watching him play at home and here. He was in Slava's shadow for many years but definitely a great player in his own right."
Alexander Yakushev: scored seven goals in the '72 Summit Series, star of the '70s era.
"Everyone respected him. He never played for Red Army, so didn't play on the best team. But he competed and put up great numbers. He did a great job internationally, played really well in those Super Series against North American teams.''
Vsevolod Bobrov: Denis Gibbons for The Hockey News back in 2012 said: "The first great Russian star, Bobrov captained both the national hockey and soccer teams of the Soviet Union in the 1950s. He was a daring attacker who played the individual-style Canadian game and could easily switch the stick from his left hand to his right while beating a defender."
"I heard so much about him, obviously never saw him play. He also was very good in soccer. He's one of the reasons people played hockey in my country, because of the way he played and the way he scored goals. Because for us, hockey is a relatively new sport compared to Canada. He was the guy that played so well early on that people were coming to watch him."
Pavel Datsyuk: crazy dangler with the puck, the most underrated superstar in the NHL.
"The way he plays, how hard he plays defensively, and how good he is offensively with all his moves and passing ability, I'm not sure Russia has ever had a player quite like him. He's a great combination of playing defense on such a high level and offense on such a high level, so rare in Russian hockey history. Maybe the closest guy was Sergei Fedorov, he had the same kind of mentality. In my books, Pavel is No. 1 though, I don't think there's ever been a combination like that of his defensive instincts and offensive abilities."
Alexei Kovalev: "One-on-one, he was one of the very special players of his time. Very few players had his one-on-one moves, he was so special in his prime."
Alex Mogilny: scored 76 goals with the Buffalo Sabres in 1992-93, scored 473 goals in 990 NHL games in career, 1,032 career NHL points are second all-time among Russian-born skaters.
"He did a lot of special things, he opened up a gate for us when he left for the NHL. That wasn't an easy thing to do back then, he pretty much changed the system when he left, plus he became a great player here in the NHL."
Ilya Kovalchuk: Five times a 40-plus scorer in the NHL, twice a 52-goal scorer, before going to KHL
"You have to remember, he might come back one day, who knows? I don't know if he will or not, but if he does, he can add to his great numbers. His speed and shooting ability, there aren't many players like him. It was tough to play against him in the NHL. He deserves to be mentioned on this list, too."
Sergei Zubov: Second all-time in NHL scoring among Russian defencemen with 771 points (152 goals, 619 assists)
"I loved the way he played, he could control a game, his great passing ability, he could slow down a game, he had a special talent for sure."
Sergei Gonchar: All-time leading NHL scorer among Russian-born defensemen with 811 points (220 goals, 591 points) in 1,301 games
"We're not going to talk about me," Gonchar said, chuckling.
So, what do you guys think? Let me know in the comments. I believe Datsyuk is the best, but it is a personal opinion.